A Round Guy's Journey into CrossFit…
Growing up I always had the metabolism of a hummingbird. I could eat what I wanted and never gain a pound. This lasted up through college and into my early twenties – when I got my first desk job. Sitting at a desk, grabbing lunch where and when I could and generally having little or no physical activity had a drastic and immediate impact on my body. After 4 years of being a keyboard jockey I was laid off. This was during the I.T. crunch so work in my chosen field was not readily available. To pay the bills I took a construction job which lasted a year. During that year I dropped from 240 lbs to 180 lbs. I was in the best shape of my adult life. After the year was over I got back behind the keyboard and found myself back behind a desk. My cherished 180lb frame turned into a 265lb frame in just under 3 years.
I was fat. I was out of shape. I was tired all the time. I had man boobs. I couldn't run to save my life. Simple tasks winded me. I needed to do something, but I didn't know what.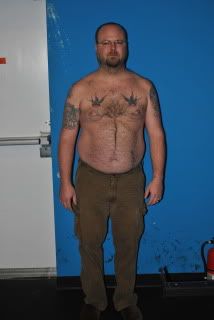 George Schieber, a member of No Excuses, works with me. At that point he had been CrossFitting for about a year. After seeing his results and hearing about the gym I was finally ready to make a change.
I started at No Excuses the first week of 2010 at my all time heaviest. 265-270lbs. Going into this I knew I was out of shape although I didn't know just how out of shape. At my first foundation class Ben had me do squats. I think I did 15-20 and for the rest of the week I couldn't walk. Ben also had me do (try to do) a pull up. I jumped up and grabbed the bar. My shoulders just about separated and there I hung like a sock with a rock in it. Ben told me to pull. I told him I was… I just wasn't going anywhere. At that point I realized I had a long road ahead of me.
CrossFit is all about measureable repeatable results. This was fortunate for me since my joining the gym coincided perfectly with the beginning of the 7 week paleo challenge. The first 3 workouts I did at No Excuses were Cindy, Jackie and CrossFit Total. Jackie walked all over me for 27 minutes. Cindy only gave me 5 rounds and my CrossFit Total was only 525 lbs. I survived, which I guess is ok, but I wasn't satisfied… Not by a long shot.
Seven weeks of paleo diet and WOD's later we repeated the benchmark workouts. My Jackie went from 27 minutes to 12:36 – cut in half. I added 4 rounds to my Cindy and my CrossFit total jumped 170lbs. I had also lost around 16 lbs. Not too shabby. Seeing these results just fueled the fire for me. I CAN do this, I CAN see results.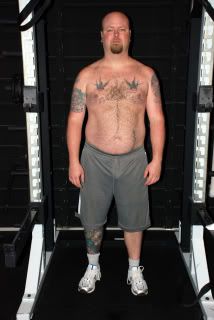 The best thing about No Excuses is that everyone, not just the trainers, push me. Past comfort, past discomfort, deep into begging for mercy. I don't have the self discipline to do this at a "box" gym. It would be about 10 or 15 minutes before I decided it sucked and went home.
Thanks to Kyle, Ben, John, Laura and all the trainers. Thanks also to all my new friends and family at the gym who constantly push me to give 110% and constantly achieve new personal records!